The 58th Annual Grammy Awards was just a week ago (I know I'm a bit late writing about it, but I had to work up the courage to do so). You can see the list of nominees and winners everywhere on the Internet, so it's needless to reiterate that here. What I believe is very subjective, however, is the fashion statement of each artist. That's what I often find myself gazing at after I'm up to date on the nominees and winners list, and I assume I'm not the only one.
It's fascinating (and sometimes shocking) to see how the fashion trends or individual styles change each year. There are always those outfits that wow the fans, or make them puke. Stars gonna be stars, right?
Anyway, I present to you my 'fashion review' of this year's Grammy Awards (images from Vogue), in no particular order:
Disclaimer: This is just my honest opinion, and am in no way attempting to defame these artists. "Beauty is in the eye of the beholder", and so applies to fashion.
Top 5 Best Dressed Females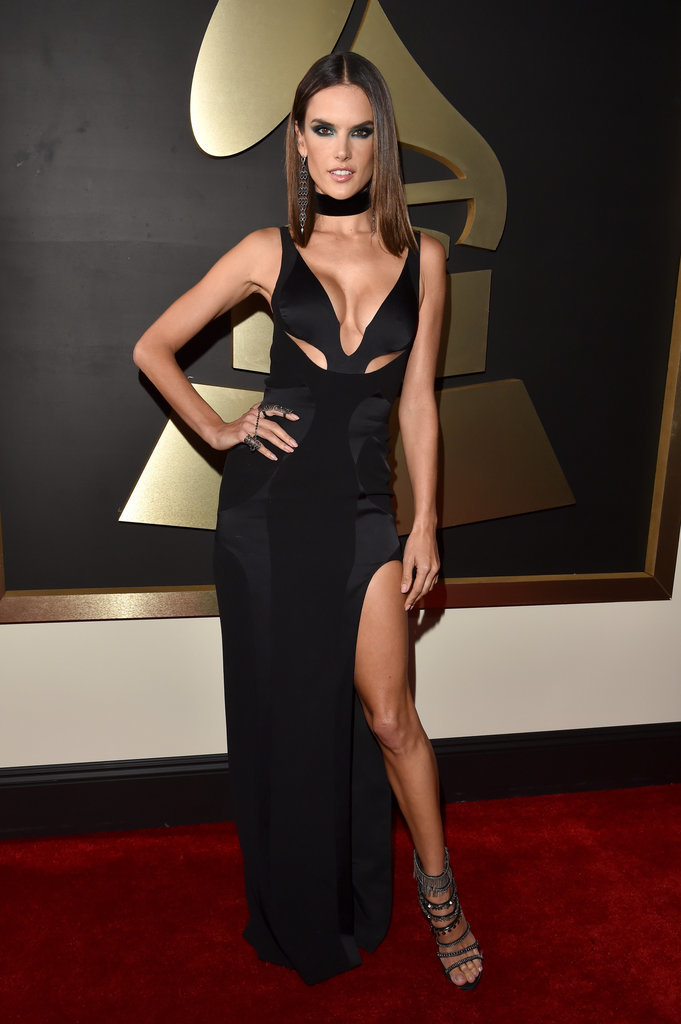 Ariana Grande: Rocking her signature hairstyle, the simple red gown enhanced her curves perfectly. Love how the dress drapes the floor behind her – it gives the illusion of an elongated look.
Alessandra Ambrosio: Everything about her outfit – hair, makeup, dress and heels – scream edgy. Black is never out of style, and the black dress enabled her to show off her flawless body shape (legs and chest) without it being too exaggerated. The earrings are a bit too unperceived, but the black lace necklace is perfect.
Taylor Swift: I think this is the first time I've seen Taylor with a bob haircut, but it's cut just at just the right length. With her signature red lips, she's lately been wearing more striking colors. I still remember when she would wear white or light-colored dresses, with her long hair down *sigh*. A revealing top and a floor-length dress, the combination creates a balanced not-too-revealing impact – edgy.
Chrissy Teigen: Kudos to her for rocking her baby bump! If it had been me, I would have resolved to black, as is usually common. But this gorgeous neoprene white dress, along with the glittering floor-length cape accentuate her baby bump in an aesthetically pleasing way.
Carrie Underwood: With glowing skin, the black silky dress is wrapped around her stunningly. Like Ambrosio and Swift, she went for the edgy, but unique, look as well.
Top 5 Worst Dressed Females
Kehlani: I'm not a fan of the bright red color, and the dress overall gives the appearance of a unfitting, loose dress.
Lee Ann Womack: The slightly baggy dress just looks a bit too nonchalant and casual for me. The hairstyle, makeup and heels look well-put though.
Brandi Carlile: This all-black jumpsuit looks like something I would wear to do something active/sportive, not to a formal event. And the shoes, I hate shoes that have a huge open heel.
Bonnie Raitt: The subtle color combination is alright (you can never go wrong with black, right?) but it appears as if she were trying to dress to look young, instead of embracing her actual age. Maybe it's the jacket, because the pants actually look fine.
Cam: The bright yellow and white is very eye-catching to be honest, but I'm not sure about the dress itself. Her hair is gorgeous, but her dress reminds me of some type of bird… like a costume. I feel that this is one of those love-or-hate outfits.
******************************
Top 3 Best Dressed Men
(I found fewer images/options of males, so I only chose 3 for best/worst dressed.)
These 3 men are acing their attires/tuxedos. They all fit their body sizes seamlessly. Though men have 'fewer' options because they always have to stick to formal suits for these occasions, the subtle details, colors and good tailoring can change everything.
Jack Antonoff: The colors are just perfect. Love everything about the outfit, including the white pocket (?) on his left chest, and the shiny black shoes.
Sam Smith: The color of his suit matches his eyes perfectly. Enough said.
Big Sean: Very classy and elegant.
Top 3 Worst Dressed Men
The Weeknd: Ugh. That just looks like bad tailoring. I don't know what he was trying to pull with the all-black look. It looks like everything is the same tone of black (except for the shoes), which doesn't help him stand out in any way.
Wiz Khalifa: Not a fan of any of his outfits, actually. He seems to wear the high socks quite a lot, which is fine, but just not here. Also, he looks like he has outgrown his pants and jacket, which look just wrong. It's probably due to the fact that he has a sense of style that I have absolute no taste for.
Pharrell Williams: Just no. Too casual, as if he had been planning to dine at a fast-food restaurant instead of attending the Grammy.
******************************
That's it. I was hoping to write more on each person, but I realized that it would all amount to too much. Please comment about your opinions regarding this post overall, and any details you would like to point out. I'm open to suggestions!