There is just something so homey about watching Gilmore Girls that makes it so enticing to binge-watch. I only watched some episodes of the first few episodes and pretty much skimmed through Rory's life in the later episodes, but I feel that it would have been different if I had 'grown up' with the series.
I actually first inquired about this series when I came across this Gilmore Girls books list. I immediately googled Rory's character and found her to be that corky but smart relatable girl (regardless of how cliche it may appear to you), and that just brought me back to the times when I would spend hours every day reading endless book series.
Anyway, to celebrate the fact that Gilmore Girls revival is presumably airing this year (!), I'm doing this book tag created by Bingeing on Books.
---
Rory and Lorelai – a book with an awesome mother/daughter relationship
Clary and Jocelyn, from City of Bones. To be honest, this is the only book I could think of, and I'm not exactly a fan of this book series (it's the first and only book I've read of the series so far). In many other great books that come to mind, the mothers are either a) not present in the protagonist's life, b) don't have a relationship close enough to be deemed 'awesome', or c) are dead.
Rory – favorite character who is a bookworm
Hermione Granger. Though she read books that we can only wish to exist, she's the one true character that makes 'nerd' and 'bookworm' cool.
Lorelai – character who is super clever and quick witted
Baz, from Carry On. I didn't love this book or the characters as many Rowell-crazed fans are, but Baz does know how to get his way without ever revealing too much about his identity.
Paris – a character who is snarky and completely honest, almost to a fault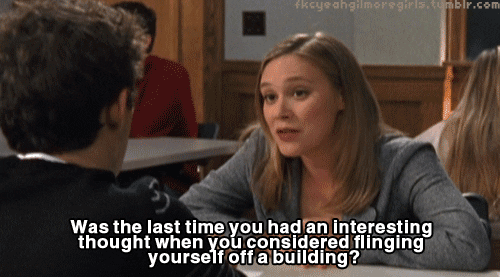 Reagan, from Fangirl. Snarky because she pretty much knew that her roommate and ex-boyfriend were going to get together before they actually did, and honest because, well, she was pretty much never ashamed to put her emotions/feelings on the table.
Lane – book with an awesome best friend
Jim, from The Adventures of Huckleberry Finn. Jim's loyalty to his friendship with Huck was so humbling to read. A book that deals with predominant issues including race and cultural identity, the compassion that Jim (a 'nigger') showed to his friend, despite the oftentimes morally conflicting situations, is admirable.
Sookie – a character who makes you laugh
Don Tillman, from The Rosie Project. This was such a fun and eye-opening book to read. What I loved about this book (the same applies to The Curious Incident of the Dog in the Nighttime) is that it was intricately written from the perspective of an individual in the autistic spectrum. It felt a little like reading about Sheldon Cooper (though Sheldon is on a different scale in the autistic spectrum, possibly just mild Asperger's). The openness and truthfulness of Don's narration was just too entertaining to read, but not in a "haha, look at what he did!" way, but in a "we're rooting for you!" way.
Lorelai and Luke – a book about best friends who fall in love
Hermione and Ron. I honestly can't think of two better characters that progressively grow to love each other like these two.
Jess – most swoon worthy fictional boyfriend
Prince Geric, from Goose Girl. He started off posing as the Prince's guard to hide his identity from Ani, the princess, creating a star-crossed romance between them. The inherent connection and understanding that existed between Geric and Ani was undeniable, especially at the end of the book, when Geric enabled Ani to reveal her true identity without getting her head slain off by the counterfeit princess.
Logan – character who is a bad boy with that you can't help but love
Finch, from All the Bright Places. He's not the typical bad boy that wears a black leather jacket and rides an inexplicably well-maintained smooth motorcycle. His battles were not with other people; it was with himself. He's someone whom you know will be bad news if you get too involved with him, yet you can't exactly let him 'go'.
---
I tag all the Gilmore Girls fans!!