When I was in primary school, I used to go through one book every one or two days. I did most of my reading after school, where I would have several uninterrupted hours to immerse myself in lovely fiction series. When school started to demand more of my time, I started restricting my reading time. By high school, I pretty much stopped reading even when I did have the time, just because I lost that flow. And also because I knew that if I picked up a good book, I would probably need to finish it before I moved on to something else. The sun could come and go and I would barely lift my head before I finished the book and realized that I had a bunch of other work to do. I'm sure many of you can relate with this.
Even now, not being in school/college, I don't always fulfill my reading goals. I aim to read 100 books this year, and I'm several books behind. I have pretty much made a habit out of reading every morning for more or less an hour – so that's good. But I had also intended to read every night as a relaxing activity before bed time, but oftentimes I find myself distracted by other things, and by the time I'm ready to read – it's too late.
Reading is such an important self-educational tool that I feel is becoming more and more outdated today. Just like physical books are becoming more outdated, so is our habit of reading. But it doesn't need to be like this. In this post, I will provide you with several hacks (tips) to help you read more by taking advantage of this age of technology.
1. Tired of 'reading'? This is for you!
The most basic and common way to read is from a physical copy, of course. This is my personal favorite because holding the book in my hand makes it more 'real' (if this even makes sense). Hate ordering a book, waiting days (or weeks) for them to arrive, and carrying the heavy books from place to place? Read from an e-book or kindle. It's like online shopping, except that you actually get your order the moment you buy the book. Hate reading in general, but want to be well-read? Start with audiobooks. I highly recommend listening to fiction books with several voices playing the characters. It seriously makes the book come alive as if it were a movie, except that you get an omniscient insight into the characters. You can read and/or hear audiobooks on your phone as well (take advantage of it!).
2. Choose your reading 'spot'
In mornings, I suggest you read in a couch, chair or desk where there's plenty of (sun)light. Reading is a very simple task, so starting with this in the morning will relax your mind, but also prepare you mentally for the day without draining you in anyway. I suggest you choose a non-fiction or a hard-to-read book so you don't over-read and delay your other tasks of the day.
In the evenings, read in bed. I suggest you choose any book, as long as it's a physical copy. It will enable you to focus specifically on the events on the book, and prevent you from dwelling on the thoughts of the day. This will most likely help you sleep better.
3. Start a reading habit
I recommend establishing a ritual either in mornings or at night (or both), because in the afternoons things can be a bit more chaotic and harder to establish a fixed reading time. You can only achieve this if you really put your mind to it and make a habit out of it. I have made reading a part of my morning routine, and I'm hoping that it can become part of my night routine as well. However, it depends on you. Maybe you prefer to read while you eat lunch. Or commuting to or from work/school. Find a time where you are certain you'll be able to squeeze some reading time into it.
4. Carry a book everywhere
And I mean it. I used to ponder too much on where I was going and think that I wouldn't have time to read a book, only to realize later on that I was wrong. I have to admit, though, that I didn't start doing this religiously until I watched Gilmore Girls and realized that Rory even carried a book when she went to her school's party with Dean (her boyfriend). Even if you only manage to sneak in a few pages when you're not at home, that still counts as something. This will prevent you from mindlessly checking on your phone when you do have the time. Don't underestimate the power of reading a few pages.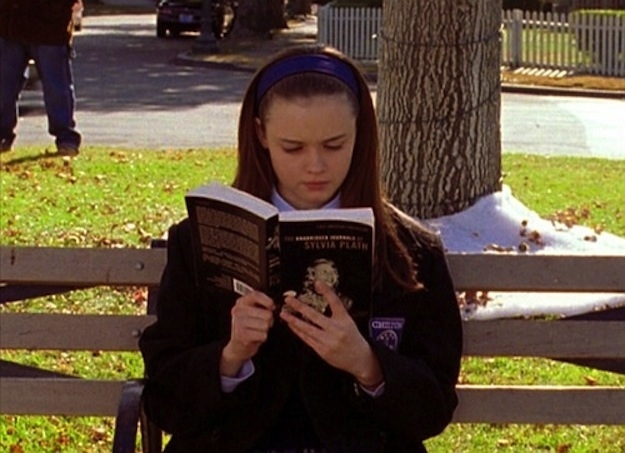 5. Read several books at a time. Or not.
It really depends on what kind of person you are, but if you enjoy reading physical copies, on the e-book and listening to audiobooks, it's probably a good idea to have at least one current read on each, so you can pick up on any of those novels when you feel like it. Personally, I always read several books at once: an easy-to-read fiction book, a harder-to-read classic book, a non-fiction, and others. This enables me to have some options to choose from in regards to my mood.
6. Track your reading on Goodreads
I highly recommend doing this, and now I really want to punch myself for only starting to use Goodreads this year. On this website, you can:
Create your own profile showing who you are, and have (or create) bookshelves to distinguish your 'Read', 'Currently Reading', 'To read', and others.
Set your yearly reading challenge (and know whether you're ahead or behind in your reading)
Become friends or follow people (authors) with similar reading tastes.
Look up any book, and immediately see a mini plot of the book and reviews made by other users, giving you a holistic view of the quality of the book.
You can write reviews for the books you have read, and/or comment on your reading progress for other people to see. This interactivity can be a motivation for you to stay on track with your reading.
In summary, Goodreads is the best website to keep your reading organized and learn about other books that you want to read. Because, let's face it: there are just way too many books to keep track of them in any other place.
P.S. If you create an account, or already have one, let's be friends on Goodreads!!